Super Soil - Screened Bulk Topsoil Dirt Delivery or Pickup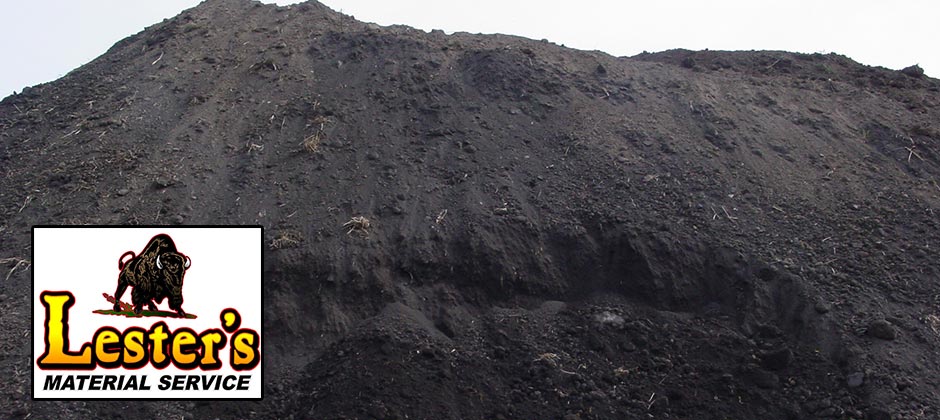 Topsoil is the foundation of your lawn and garden. If you want those flowers to explode in a kaleidoscope of color, provide them with a bed or nutrient-rich soil where they can take root. The same holds true for your lawn and vegetable garden. The better the soil the better the lawn or garden.
Lester's prides itself on providing the best quality organic topsoil in the region. Our premium topsoil is carefully prepared before we offer it to our customers. This includes disking the soil to break up clumps and prepare it for receiving fertilizer, moisture and seeding. The next step, pulverizing, further breaks down the soil and ensures that it will support healthy and rapid growth of lawns and gardens.
Then, we make it even better!
Then we screen the soil to remove any foreign matter, such as rocks and sticks. Where the industry standard is to run the soil through a 1-1/2 X 1-1/2 screen, at Lester's, our premium topsoil is screened down to 5/8-inch X 5/8-inch. As a result, our competitors can't touch Lester's soil for quality.
We then test our topsoil to ensure there are no hazardous materials and, at the same time, it's full of all of the nutrients needed to provide a healthy lawn. Testing topsoil will determine whether it contains Atrazine or Preen, two widely used herbicides. While preen will not inhibit the growth of a lawn or plant seed that has already germinated.
Your #1 Lake County Area Bulk Material & Delivery Service (847) 223-7000
Call us today to get pricing on topsoil, gravel, sand, boulders or paver brick installation. One call does it all!
Lester's Material Service, your family owned local business, is proud to offer bulk landscape products for pickup or delivery. Stop by our location in Grayslake or schedule a delivery to your location!
Lester's can deliver your bulk Topsoil as well as Lawn and Gardenmix to these Lake County IL and Southern WI locations. View our affordable delivery charges.
Antioch
Arlington Heights
Bannockburn
Barrington
Buffalo Grove
Crystal Lake
Deerfield
Grayslake
Gurnee
Hawthorn Woods
Highland Park
Inverness
Kildeer
Lake Bluff
Lake Forest
Lake Villa
Lake Zurich
Libertyville
Lincolnshire
Lindenhurst
Long Grove
McHenry
Mundelein
Palatine
Round Lake
Vernon Hills
Wadsworth
Wauconda
Waukegan
Kenosha
Pleasent Priarie
Bristol
Paddock Lake
Silver Lake
Camp Lake
Twin Lakes
Powers Lake
What People Say
Ladies and Gentlemen,

The new patio installed by you folks exceeded our expectations.

We learned a lot from observing the building of the patio beginning with the establishment of the base gravel levels through the final color matching of the cobbles. The crew was .skilled, professional and a pleasure to have on our property.

The patio received its final test over the weekend when it endured several torrential rainstorms. Not a single puddle of water accumulated.

The patio is a pleasure to use and has added considerable value to our home. Thanks to all the Lester folks in management, the office and the crew.

Sincerely,
David and Kate Quinn
---
Dear Keith,

It was a pleasure to work with you and your team from Lester's, and this comes with our thanks and appreciation for a job well done.

Our patio, entryways and sidewalks all look great. We're especially pleased with the smooth transition between each space and the craftsmanship and skill evident in every cut of copthorne, in every precisely joined corner. And, I think you must have sent us the A-Team Andreas and his four-man team were so nice to work with. They were always on time, very hard working, and very respectful of our home property and job site. They willingly answered our questions along the way and worked with us to make small changes on the job.

This was a quality job and good experience from start to finish! Many Thanks!

Warm regards,
Rebecca and Bob Steinmeir
---
"Dear Sirs;

This letter is a 'thank you' for the excellent job of laying bricks on my driveway here on Guerin Road in Libertyville. The quality of workmanship was great, as you did on completely re-doing my patio with bricks, your men were hard working and my area was cleaned up after a days work.

I'm very proud of my brick patio and my new driveway. I've had several good comments from my neighbors on the looks.
Sincerely,"
Jackie and Joe Nemmers
---
"It looks amazing! I love it! The crew left the site very neat when they left. Thank you! "
Brian and Sue Yee
Grayslake, IL
---
"Dear Keith,

In every field of endeavor there are always those few people that go beyond that which is expected of them. Keith, you and your staff are some of these 'few' people.

Virginia and I extend to you and your staff our deepest appreciation, for superior results far beyond our expectations, achieved during the installation and completion of the Patio with Seat Walls, Water Feature and Walkways at our residence.

Sincerely,"
Glenn & Virginia Herczeg
---
"Just a quick note to let everybody know that it was a pleasure to work with Keith and the guys on our pavers project. Everything was finished with complete satisfaction.

Keith was so easy to work with. Whatever we wanted, Keith was willing to get done. He was repeatedly on site to make sure things were going OK."
Jerry and Carol Bender
---
"Dear Keith,

Thank you so much for the beautiful walkway. We are very happy with the work. The stairs are easy to navigate and the brick landings are so beautiful that is looks like a picture from a gardening book of design. Thank you also for giving the project drainage under the walk, the entire project from design through installation reflects Lester's commitment to excellence in both materials and craftsmanship. We are very pleased with all aspects of the project and it has added real value to our home and neighborhood. Thank you so much. We love the attention to detail and workmanship."
Joe and Karen Patrick
---
"Dear Keith & Crew,

Thank you very much for the professionalism, attention to detail and hard work that went into our new patio!

We are very pleased with our changed backyard space and would highly recommend "Lester's" to family and friends. From first contact to project completion, your work ethic and priority of customer satisfaction shined through. We wish you continued success! Thanks,"
The Duffy Family
---
"Thank you for the outstanding job Lester's did replacing our old brick and timber stairs with new brick and stone steps. The design is absolutely beautiful and we are beyond thrilled. The results far exceeded our expectations. It is apparent by the completed project that every detail was considered from the design to the installation. The end result is a reflection of you and your staff's commitment to professionalism and craftsmanship.
With appreciation,"
Tom and Debbie Owens
---
"Gentlemen,

I commend you on the timely scheduling of the work as well as the speedy completion in two days. Your crew worked diligently, particularly on the partial wall, until it met my expectation. At the end of a long day they took time to clean everything before they left.I am delighted with the result and will be happy to recommend your work.
Sincerely, "
Zenia Killian
---